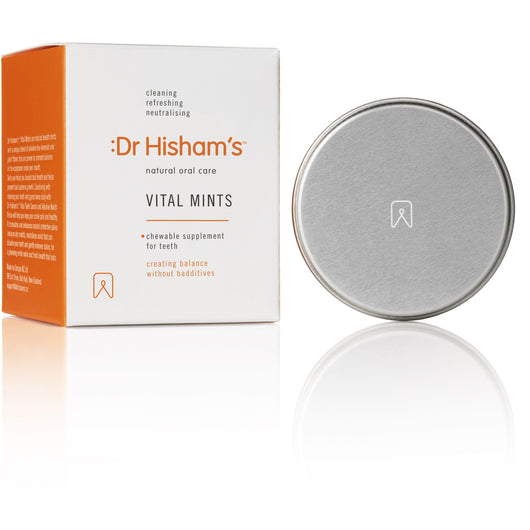 Description
Ingredients
How to Use
Reviews
Dr Hisham's Vital Mints (120 tabs) are 100% natural Holistic fresh breath mints with a unique blend of alkaline bio-minerals and plant fibres that are proven to promote balance in the ecosystem inside your mouth & microbiome.
Another invention by Dr Hisham; An alkalising bioactive mint doubling as a dry and ingestible non-toothpaste!
Daily use supports good bacteria growth, helping to keep the mouth fresh. Combine with cleaning your teeth and gums Dr Hisham's Vital Teeth Serum + Alkaline Mouth Rinse, to keep your oral ecosystem alkaline, your microbiome balanced and your smile safe.
Stimulates and enhances natural protective saliva (reduces dry mouth), neutralises acids that can dissolve your teeth & gently removes stains, for a gleaming white smile & fresh breath that lasts.
120 tabs (3x40 tab tins).

Store in a cool place below 25℃ / 77℉
Prices in NZD (New Zealand dollars)
Finnish Birch Xylitol, Calcium Glycerophosphate, Nano Hydroxyapatite, Magnesium Orotate, Sodium Bicarbonate, Microcrystalline Cellulose, Potassium Citrate, Menthol, TotarolTM*
* Certified Organic Ingredients.
Chew or suck 1-2 mints slowly after meals, acidic drinks or just to freshen breath and stimulate saliva flow. Do not rinse afterwards.
While traveling in a plane or vehicle, stay relaxed in your seat and crush 2 tabs between your teeth. Brush your gums & teeth, rinse it all around and swallow safely the nutritious plant fibres & vital salivary bio-minerals.
Remember there are no badditives here to spit out or rinse!