Wholesome health starts through your mouth.
A Dentist-made Holistic Oral Health Care System for your well-being. Smile safely with healthy teeth, gums, and oral microbiome. 100% Vegan, Keto, Organic & Physiologically Natural ingredients, made with love.
Safe for you, your smile and our Ecosystem.
Free Shipping*
30 Day Money Back Guarantee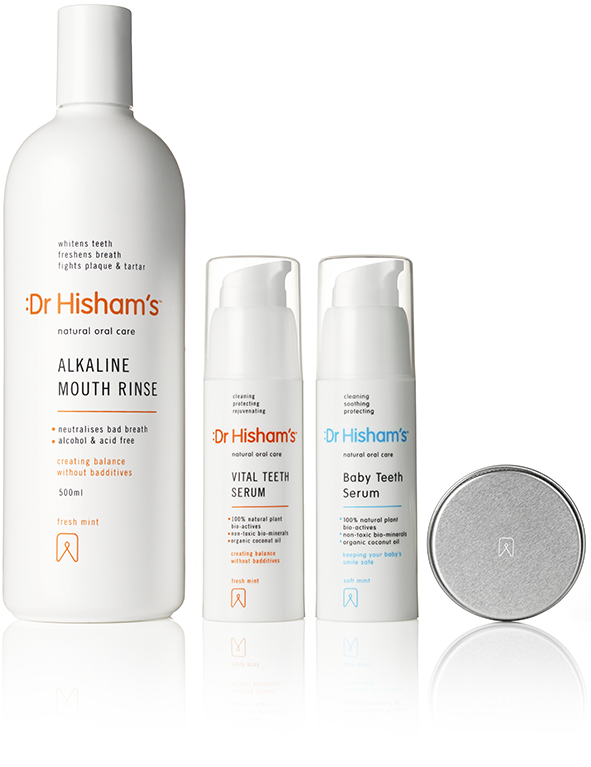 Made in New Zealand, to give you holistic balance without additives
We started with 1 Vital Question: "What if oral care products were natural and support your body and symbiotic microbiome? How can they be better for us, our ecosystem and environment?"
Then we created the answers and they're exclusively here, at select Professional Clinics & Organic Food Stores.
Our Vital Teeth Serum is the world's first professional blend of Organic Coconut oil, Organic Cocoa Butter with Theobromine, NZ Manuka & Tea Tree oils,  Bio-active plant fibers (Finnish Birch Xylitol & NZ Totarol), then fortified with essential Bio-minerals & Vegan Vitamins K2 and D3.
We crafted a sophisticated non-toothpaste serum that's a whole lot better for you and your loved ones, as well as our whole ecosystem & environment.
Many dentists & hygienists love using our Vital Teeth Serum & our Baby Teeth Serum for their own children, while recommending them to their patients.
The Holistic features of :Dr Hisham's Holisitc Oral Care System include:

Good Benefits
Supports cleansing by breaking down plaque biofilm
Supports good bacteria helping inactivation of bad breath bacteria and smelly sulphur compounds
Colour-free helping to support natural teeth whitening
Contributes to healthy alkaline oral balance
Helps prevent tooth decay & cavities
Helps prevent tooth wear from acid erosion
Soothes sensitive teeth & sore gums
Helps support natural saliva production
Prebiotic formulation to help you support good bacterial balance in your oral microbiome
Eco-friendly, food-grade ingredients
Recyclable, Refillable & Reusable Eco packaging
Vegan, Halal, Kosher & Paleo friendly
No Additives
No abrasives
No toxins
No alcohol or irritants
No SLS or detergents
No fluoride
No parabens
No petrochemicals
No plastic microbeads
No Triclosan
No Titanium Dioxide
No gluten, sugar, saccharin or aspartame
No BPA or Phthalates in our HDPE bottles
No animal testing or by-products
When our daughter cut her first tooth we were looking for the most natural option to keep her teeth clean, and were concerned that we were continually advised that she shouldn't swallow conventional toothpaste

Read more

Victoria Viall
We need more Serum urgently. Our patients love it more than we imagined, and so do our daughters. Thanks Hisham for inventing something so awesome.

Dr. Donny Mandrawa, BDS – Mebourne
I love both Dr Hisham's teeth powder and the Vital mints. I use them both.

They keep my breath fresh and my teeth whiter than they have ever been.

Read more

Tim Zelko - Wisconsin, USA
My name is Jack, I'm a yoga teacher and I promote drinking the best water, meditating and using the best products for oral health and that is Dr Hisham's Natural Oral Care System.

Jack Smith, Hastings, NZ
Hi Hisham, the kids are loving your serum, more than I expected. Moms are calling me to tell me they love it and want to brush all day!! Never happened before.

Dr Rasha Malik, DDS – KL, Malaysia
I was delighted to discover Dr Hisham's Serum that I cannot even compare it to toothpaste, because it does so much more. It's like magic, but real.

Irene Jane - NZ
We have been looking for something as great as this for our holistic dental practice for a long time. Thank you for sharing it with us.

Our clients and families can't get enough of your serum and rinse.

Dr. Terry Rose, BDS - Melbourne
Using the Alkaline Mouth Rinse first actually makes my mouth feel fresher. Thank you for recommending such great products.

It's been so effective for me, this truly is the next generation in dental health care.

Stephen Bowkett, Auckland
The world's first alkaline professional oral care system that is totally safe if swallowed.
No rinsing required, no water wasting or adding toxins to our environment.
Designed by a leading dentist. Recommended by hygienists, dentists & healthcare professionals.
Works like nature, sourced from nature
---
We believe that a healthy life starts with a healthy smile :-D
Like all natural and organic cosmetic preparations, we believe that what goes into your mouth will get into your body immediately.
Therefore we make our products good for all of you, not just your teeth.
The main aim of our patent pending, natural oral care products is to help contribute to neutralise the acids that erode and decay teeth while inactivating the factors that fuel bad bacteria and fungus growing in your mouth - causing inflammation. 
We want to make sure that you avoid abrading your teeth, irritating your gums & sensitive oral skin or ingesting toxins while actively caring for your oral health.
We started with a clear vision & intent to create something new & remarkable. That's why we don't make a better natural toothpaste or even an organic toothpaste that's still abrasive & foaming, i.e. not natural in effect.
Rinsing my mouth out with Dr Hisham's mouth rinse and then cleaning my teeth with the dental powder is in fact a real pleasure. My mouth feels refreshed and revitalized. I actually look forward to my twice a day cleaning.

Read more

Bryan Fitzpatrick, NZ
I LOVE the fresh clean mouth feel while knowing what I'm putting into my body is safe.

I will not be going back to toothpaste!

Michael Mayell, NZ
As a clinician, I am delighted to see such safe & effective preventative therapy that people actually enjoy using and giving to their kids to keep their mouths clean and safe.

Catherine R Schillinger, RDH - Hawkes Bay
My patients love it and I can see the positive changes in their oral health and wellbeing as well as whiter teeth.

Dr. Angie Papas, BDS - Sydney
The products work and I'm privileged to have been an early believer. You will notice the results.

My smile represents the confidence within and I want to look after my investment.

Peter Revell - Auckland, NZ
I' been using Dr Hisham's for over 2 years. My mouth has never felt so healthy.

The Mouth Rinse is mild & really pleasant. I like the fact that it is alcohol & detergent free.

Toothpastes fill my mouth with a lot of soapy froth, but this powder gets straight down to business, without the need to rinse after.

Gillian G, NZ
For all of my life I had used traditional toothpastes without any real thought about alternatives

I have to say that, after nearly six decades of using tubes of brands x, y or z, I was astounded to discover that not only was there a totally non-toothpaste option, but just how effective and pleasant it is.

Peter Gee, NZ
Hisham, I can't express enough, from our profession, the need for what you have created. I wish you well.

Thanks for stopping the nag every morning & night to our 8yr old son Kingsley, brushing his teeth!

He's asking me to say thanks for the nice taste.

Dr Daniel Abood, QLD Australia
Recently I had run out of Dr. Hisham's products.

Having had to go back to normal toothpaste was a shocking reminder as to why I don't use it anymore.

I'll be keeping the Vital Serum backed up in the cupboards from now on, so I don't run out again!

Jodey - Auckland, NZ
Let's seek health, rather than fight disease
Dr Hisham's natural oral care system is a revolutionary solution that goes beyond protecting your teeth into caring for your smile, breath, oral skin and whole mouth health.
Dr Hisham's unique formulas offer a safer and more effective way to care for your smile, by helping create an environment that nurtures good bacterial flora and human cells to stay vital, while keeping everything in your mouth naturally healthy.
In a world so complicated by confusing dietary and personal care product marketing, we're here to support your health and help bring clarity to your choices. We help you make simple sense of science and serve you with safe solutions that work around your busy lifestyle.
Watch the video
Look better, feel better, be better
You will enjoy the great taste of our food-grade oral health products while experiencing the cleanest fresh mouth feel. You can trust they're safe for you & your family, because we made them for our own kids first. READ OUR STORY
This is for you who believe, like we do, that harsh abrasives, foaming detergents and chemical irritants do not belong in the human mouth.
Therefore Dr Hisham's natural oral care products are carefully created using scientifically proven natural, organic & eco friendly ingredients that actively help restore and maintain vital alkaline balance in your oral ecology & microbiome.
Read our story