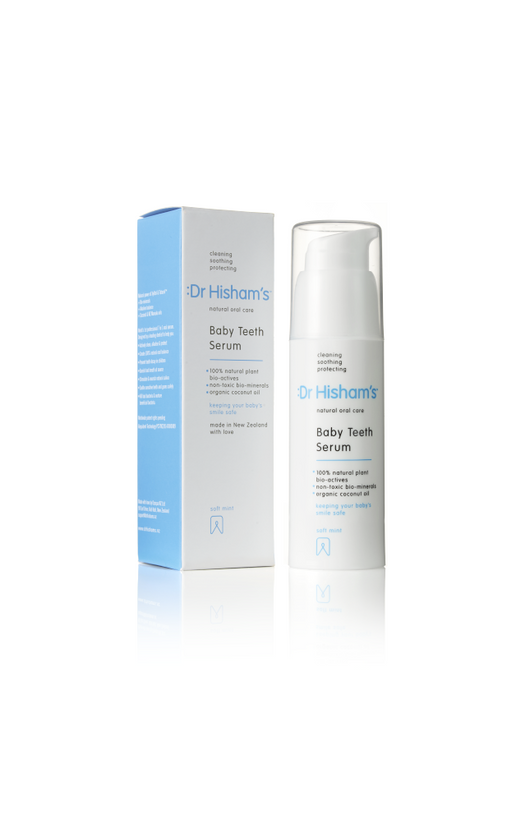 Description
Ingredients
How to Use
Benefits
Reviews
Dr Hisham's Baby Teeth Serum is the world's 1st 7in1  Professional Alkaline, Food-grade, Natural Non-toothpaste for babies, infants & kids with baby teeth. Safe to ingest, without additives or toxins! 
Cleans, protects, supports your oral health and microbiome.
Created by a dentist for his own child and your family.
Gentle enough for babies, strong enough for adults with dry mouth or if you don't like menthol.
Finnish Birch Xylitol, Ozonated Aqua, Organic Coconut Glycerine*, Organic Coconut Oil*, Calcium Glycerophosphate, Sodium Bicarbonate, Organic Cocoa Butter*, Betaine, Menthol, Mentha Piperita oil, Organic Orange Oil*, Potassium Citrate, Sodium Anisate, Zinc Citrate, Nano Hydroxyapatite, Xanthan Gum, Hypoallergenic Tea Tree Oil Extract, Vegan Vitamin K2 in MCT Oil, Vegan Vitamin D3 in MCT oil, NZ Manuka Oil*, NZ Totarol*
* Certified Organic Ingredients.
Use on a gauze for babies, or on our unique super-soft Biofunctional Gum&Toothbrush to clean your child's gums and teeth safely 2x per day for two minutes at least. Don't rinse after.
Apply with a clean finger as needed to aid healing, remineralisation, protection, saliva replacement, to freshen breath & to soothe sensitive teeth & gums.
Good Benefits
Actively cleansing by breaking down plaque biofilm
Banishes bad breath by inactivating bad bacteria & VSC's
Colour-free to prevent staining while naturally whitening teeth
Creates healthy alkaline oral balance
Helps prevent tooth decay & cavities
Helps prevent tooth wear from acid erosion
Soothes sensitive teeth & sore gums
Helps alleviate dry mouth (Xerostomia) by stimulating & nourishing natural saliva
Prebiotic formulation to help you suppress bad bacteria & express beneficial bio-flora
Eco-friendly, food-grade ingredients
Vegan, Halal, Kosher & Paleo friendly
No Badditives
No abrasives or toxins
No alcohol or irritants
No SLS or detergents
No fluoride
No parabens
No petrochemicals
No plastic microbeads
No Triclosan
No Titanium Dioxide
No animal testing or by-products
No gluten, sugar, saccharin or aspartame